Auctus Metals Breaks+50% Annual Net Returns for Year 2019
Posted on 18 Dec, 2019 in
Auctus Metals Breaks + 50% Annual Net Returns
For Year 2019
On Behalf Of GBA Auctus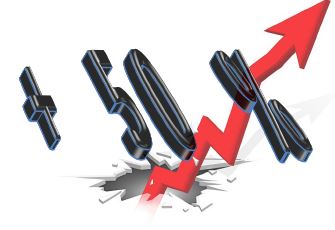 Auctus Metals Managed Portfolio out perform gold & Silver again in 2019
Our Clients Portfolio performance Spectacular Net Performance  in 2 charts
Our bespoke physical  precious metal portfolios (using our company trademarked algorithmic systems managing the physical weightings of the portfolios of our clients who have utilised our service) have yet again confirmed our portfolio models deliver superior returns .
Our  diversification strategy using physical precious metals is designed to generate an effective yield out of what is typically a non-yielding investment.
Utilising gold as the base unit rather than fiat currency, our algorithm generates yields on the original gold holding by identifying risk- assessed opportunities within the other precious metals based on a broad range of market indicators and cycles.
With gold typically generating similar long-term returns to equities and real estate (approximately 7% – 10% per annum), achieving a yield on the initial gold investment allows us to significantly enhance these returns (circa + 20% Compound Annual Growth Rate and above (CAGR))
Developed over the last 7 years and perfected over the last 3 years, the necessary re-balancing of client portfolios (trading margins) has not hurt them in spreads – it has actually enhanced their long term returns.
Through back-testing of our models we have discovered that our algorithms have typically sold metals near 60% to 70% of their final run highs (selling on the way up) and  creating buying signals as a straight swap at close to their individual extreme lows.
The models have had a remarkable run at recognising the right levels of undervaluation and capturing significant amounts of the upside – this is all that's required to capture these percentage performances.
Auctus Models Performance Versus US$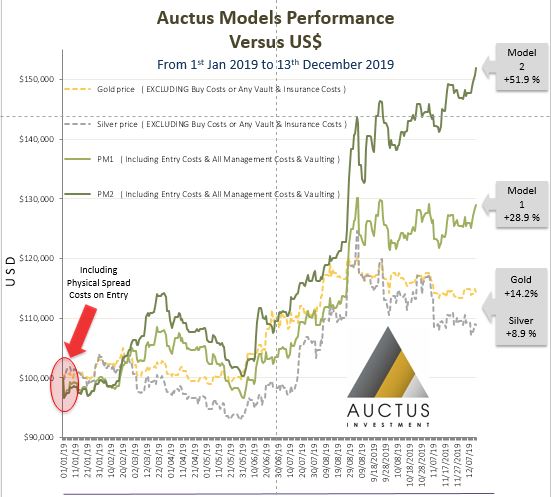 These models are not devised or particularly modeled for instant gratification, they are designed to give a very healthy positive +Alpha return over a 3 to 4 year period 'over and above gold's performance'. Saying that we have walked into the perfect storm (which we have previously written about) and expect returns on our models to stay elevated above the norm over the next few years, making it still a wonderful opportunity to enter the market through.
Historically speaking investing into precious metals in December has proven to be an incredibly profitable trade.
Read that analysis here.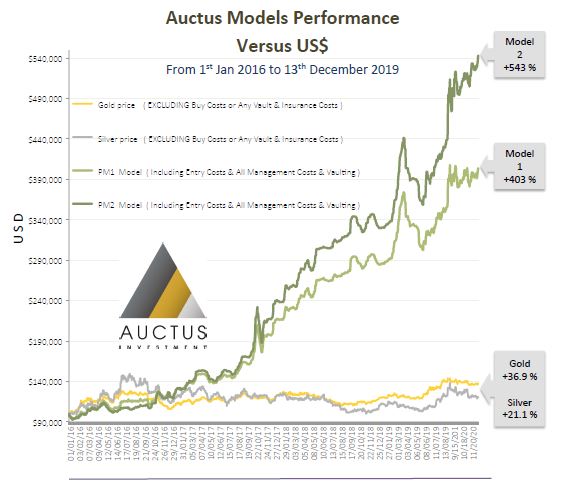 No performance is guaranteed of course and pullbacks have to be anticipated.
Price fluctuation is part and parcel of global markets price action. We believe a diversified well managed portfolio that is constantly monitored by our algorithms and by a team of investment professionals, will deliver clients superior returns to a passively portfolio.
Whether you are a first time investor or someone wishing to balance an investment portfolio Auctus is an essential consideration for the precious metals investor.