Our Clients Portfolio Performance Spectacular Chart Performance – 3 charts
Our Clients' Portfolio Performance
Spectacular Chart Performance – 3 charts
Our bespoke physical segregated vaulted precious metal portfolios (using our trademarked algorithmic
metal weighting management systems) have yet again proved an enormous out-performance.
Following in this document is the latest performance of the Auctus models. It clearly demonstrates what
our correctly weighted physical metal portfolios can return over and above a static holding of gold or silver.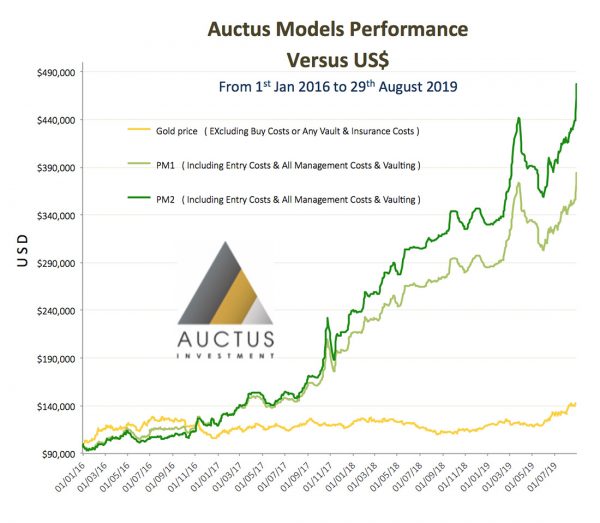 Managed Portfolio in Physical Precious Metals
A Return Over and Above Gold (the Alpha)
Developed over the last 7 years and perfected over the last 3 years, we are taking the classic "asset diversification actively
managed" model. This model is religiously followed by the world's most successful asset money managers. Auctus is
incorporating these same principals, applying them to precious metals, as opposed to a typical investment of gold or
silver held in a vault.
Below, the same chart performance but expressed in gold Troy Ounces. A client who deposited
100 troy Oz's of gold with us would now have hard physical metals in their vault equivalent to over 330 Troy Oz of
Gold since the beginning of year 2016.
This clearly demonstrates a massive out-performance of our bespoke physical portfolios – the Alpha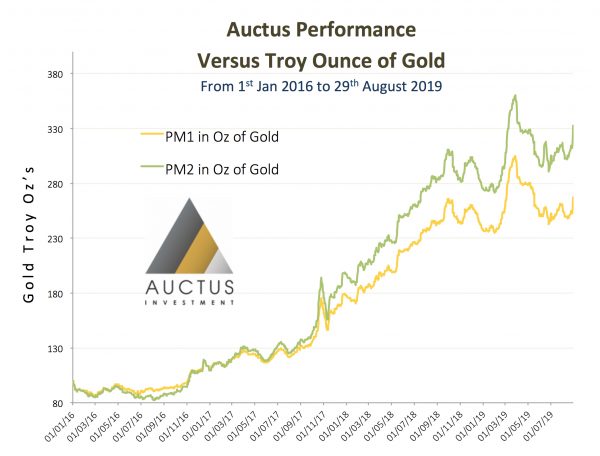 Our Clients' Portfolio Performance
Stripping Out Spreads And Costs
Our models balance holdings of the 5 main precious metals, re-weighting the holding when market signals are triggered within our unique trade-marked system.
It must also be clarified that we have demonstrated these performances after stripping out the bid-offer spreads of
buying the correct weighted metals, including vaulting fees. Even after overlaying this performance over the gold price
(which has not had bid-offer spreads of buying the physical gold stripped out or vaulting fees), our models (even in the
short term) have out-performed gold, and this is with gold rising by +19% since January 2019. Our Provectus Model 2
(PM2) is up +34%.
Can any of our competitors in this industry demonstrate or offer such physical metal portfolio
performance after costs ?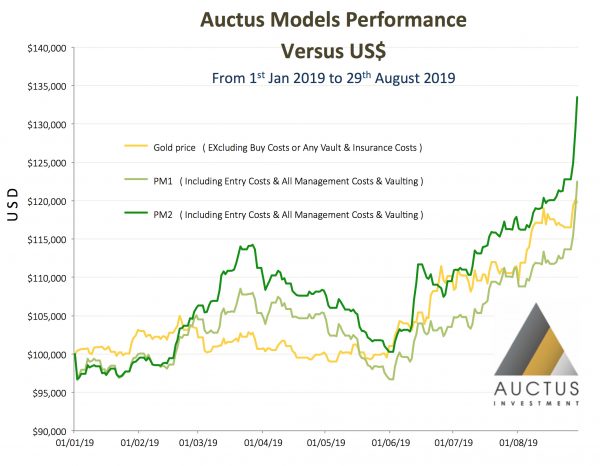 No performance is guaranteed of course and pullbacks are anticipated which is part and parcel of global
markets price action. A diversified, well-managed portfolio that is constantly being monitored on a daily basis
by a team of investment professionals across a strong partnership of bullion and logistic companies collectively
brought together into our company Auctus Metal Portfolios Pte Ltd, is considered imperative for our client base.
Auctus' longstanding proven out-performance provides a logical way of approaching your hard precious metals
diversification requirements.
Always a full physical metal investment allocation, zero paper trading or collateralisation. Held in the
client's segregated vaulted account with third party vaulting within free-trade zone security
premises.
Contact us on  sarah@goldbullionaustralia.com.au
Disclaimer:
The information contained in our websites should be used as general information only. It does not take into account the particular
circumstances, investment objectives and needs for investment of any investor, or purport to be comprehensive or constitute investment advice and should not be relied upon as such. You should consult a financial adviser to help you form your own opinion of the information, and on whether the information is suitable for your individual needs and aims as an investor. You should consult appropriate professional advisers on any legal, taxation and accounting implications before making an investment.