Have you considered Rhodium?
Baird & Co has just launched the world's first Rhodium coin, which we now have in stock.  This has prompted us to ask how Rhodium should fit into a precious metals portfolio and why it' an attractive investment opportunity right now.
First ever legal tender Rhodium Coin in the World 1oz Tuvalu Rhodium Coin 999% Year 2018
Country: Tuvalu, Oceania, Mint: Baird Mint, Diameter: 32.69 mm, Weight: 1 oz  Purity: 0.999%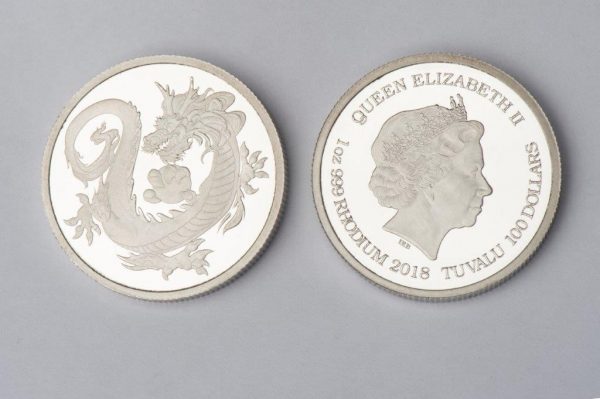 ABOUT RHODIUM
Rhodium is a very rare metal, silvery corrosive resistant.  Due to its rarity and industrial use, the price is driven by supply-demand factors and can be a very exciting investment opportunity for the educated investor.
Rhodium (Rh) serves as an essential and highly sought after industrial metal specifically for its unique properties. As an investment vehicle, Rh has very much raised its head over the last 24 months due to extreme historical price divergences, the investment thesis is driven by a number of factors that make this rare metal a very attractive prospect indeed.
WHY INVEST NOW?
Managing Director of Baird & Co Asia and Founder of IPM Group, David Mitchell, has recently completed an extensive full analysis of the rhodium market and the results of which are actually very surprising to say the least.
"The world industrial demand is growing very strongly while supply is shrinking with yearly supply deficits and the world is not sitting on a healthy above ground buffer of supply," says David Mitchell, "hence the future price prospects are indeed extremely rosy."
Click on the link below to hear David talking about Rhodium.
If you would like more information please contact us for a copy of David's "Why Buy Rhodium" eBook.