ABC 37.5g Gold Tael 9999
$3,842.41 /unit
Weight:

37.50g
Dimension:

Length: 25mm
Width: 25mm
Thickness: 5.2mm
Purity:

99.99%
A beautiful and wearable investment piece. The golden Tael is a popular gift, sign of prosperity and a great storage of wealth that you can wear.
The Tael is a historical name for gold weight of 37.5grams.
The Tael is a donut shaped cast bar that has rounded edges and features beautiful markings that make it an excellent gift and valuable investment for Chinese New Year, Indian Festivals or Weddings or one that can be worn as a necklace.
Brand/Mint – ABC Bullion
Metal Content – 37.50g
Fineness (% purity) – 99.99
Tamper Proof (Y or N) – N
Mintage – Unlimited
Dimensions – Length 25mm, Width 25mm, Thickness 5.2mm
Why this type of Gold All?
Gold bullion cast bars are traditionally the most popular form of precious metal purchases made by investors. The production costs are lower than for minted bars and coins, plus you can stack your cast bars as you buy more.
This solid 1kg cast bar is branded GBA and is a beautiful, robust investment that can be stacked and stored.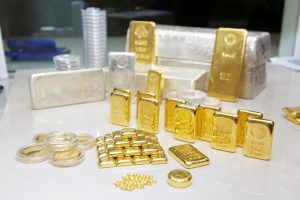 Why this brand?
ABC Bullion is one of Australia's leading precious metals and bullion specialist, trading continuously since 1972.
They are known for the production of the Emirates Melbourne Cup, ABC Bullion brand of precious metal products is a recognised brand for gold and silver bullion bars stamped with the trademark and purity, adhering to the strictest of standards.