A special offer for Women (and Men) of Influence
Posted on 19 Sep, 2017 in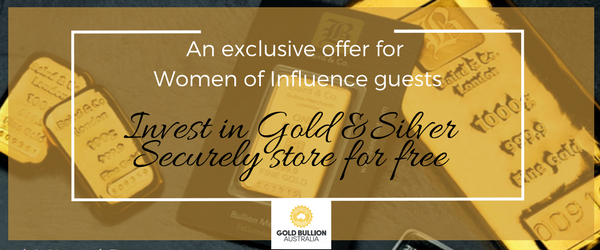 Exclusively for Women of Influence guests, when you purchase precious metals from Gold Bullion Australia, you will receive free storage for up to 12 months.*
Gold Bullion Australia (GBA) is a Platinum sponsor and supporter of Women of Influence (WOI), we enjoy the association and the opportunity to meet with like-minded professionals at the WOI events.
With the Gold Coast's only fully custodial vaulting facility for the secure storage of precious metals, GBA can offer WOI guests the opportunity to invest in precious metals with no costly shipping fees plus the opportunity to securely store your assets in the custom-built premises are at 1 Avalon Parade, Miami.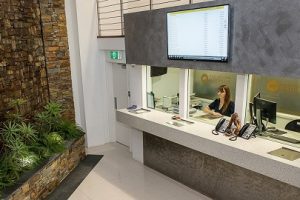 The GBA Head office has a beautiful and professional reception, meeting rooms and state of the art, timed vaults plus the team is friendly and very experienced when it comes to investing in Gold, Silver or Platinum.
As a Woman (or man) of Influence, you may be seeking a way to diversify your personal or SMSF investment portfolio.  Precious metals are an asset class that has been considered integral to a well-balanced portfolio for hundreds of years.
"Precious metals perform well in volatile markets – right now when property prices are high, interest rates are low and stock markets are choppy; savvy investors are seeking an asset that is considered somewhat of a safe haven." Says Sarah Hogwood, GBA's Sales Executive.
"The long-term outlook for gold and silver is strong, as demand outstrips supply," says Sarah.
To ensure your personal or SMSF investment is safe and secure, store it with us.  Purchase any gold or silver from GBA until 30 December 2017, mention Women of Influence, and we will store your precious metal free of charge. Please contact GBA for terms and conditions
Visit the Gold Bullion Australia showroom or contact Sarah and the team on 1300 754 602 and mention that you are a WOI guest.
Sarah's pick for the most popular items for investment:
Baird & Co Silver 1kg Cast Bars
Perth Mint Kangaroos 1oz Silver Monster Boxes
*Terms and conditions apply. 12 months free storage for purchases of $5,000 or more. Contact the GBA team for details.  Please mention this offer when purchasing