Baird & Co. wins Queen's Award for Export 2018
Posted on 11 May, 2018 in
Baird & Co., the largest gold refinery in the UK, is delighted to announce that it has won the Queen's Award for Export.
The Queen's Award for Enterprise, International Trade as it is formally known, recognises companies for outstanding achievements in exports and for contributing to the international reputation of the UK. Baird & Co. is proud to have been recognised for this success and for its strong growth in exports.
Bullion merchant Baird & Co. refines, manufactures and distributes precious metal products to discerning clients around the world. The Company has been instrumental in the development of the UK gold market and has been family owned and managed out of its headquarters in East London since it was founded in 1967. Its highly skilled craftsmen mint coins and bars in a range of precious metals including gold, silver, palladium, platinum and rhodium. As the last remaining gold refinery in the UK, Baird is helping to sustain important metallurgical skills for the 21st Century and support local employment in East London.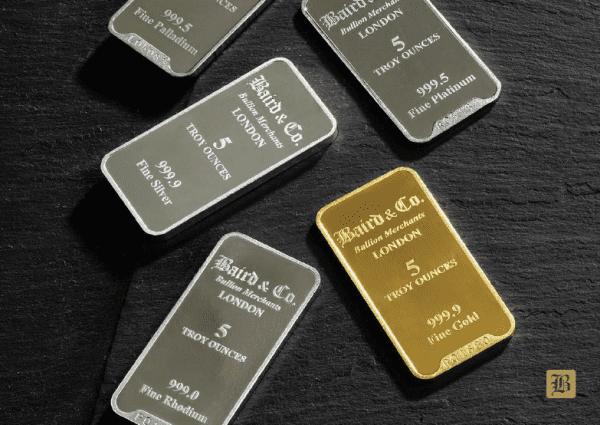 Baird & Co. operates as a retailer and wholesaler in the UK. However, for overseas markets, it is a wholesale distributor, either in partnership with international banks, or holding stocks in regional hubs to supply local wholesalers and larger retailers.
Gold Bullion Australia and Gold Stackers Australia are official distributors of Baird & Co investment grade bullion products.  We stock a wide range of minted and cast bars in gold, silver, platinum, palladium and rhodium.
Baird & Co. has significantly expanded internationally, particularly in the Asia-Pacific region. In response to high demand for precious metal products in Asia and Australia, the company opened a sales office in Singapore in 2013.
Baird has seen increasing demand from overseas clients drawn to the Company's British heritage and craftsmanship. Overseas sales have grown by 229% over the last three years and the proportion of sales exported has increased significantly to 40% of total sales. An original target of achieving overseas £100 million of sales per annum after three years was achieved in just two. Baird is developing new products, services and markets to grow its business further and secure the Company's future into the 21st Century.
About Baird & Co.
Baird & Co.- the UK's leading independent gold trader and refiner
Established in 1967, Baird & Co. is a family-run gold and precious metals company based in London. We are the UK's only gold refiner, producing bullion bars and coins at our factory in East London and marketing our products at our state-of-the-art retail premises in Hatton Garden. We are also the UK's largest independent gold trader: last year we bought and sold £660m worth of gold. With offices in London and Singapore, our clients including HNWIs, retail investors and jewellers rely on the integrity of our supply chain, our secure facilities and our international reach to buy, sell, store and invest in gold and precious metals.