`Rocketing' Silver Completes Best Month Since 2013 as Gold Rises
http://www.bloomberg.com/news/articles/2016-04-29/gold-heads-for-biggest-weekly-gain-since-february-on-dollar-drop
By  Yuliya Fedorinova, Luzi-Ann Javier
April 29, 2016 — 11:39 AM AESTUpdated on April 30, 2016 — 4:47 AM AEST
Silver had the best month since 2013 amid the dollar's slump and an improving outlook for industrial demand. Gold surged to the highest in more than a year.
All precious metals rose as a gauge of the dollar touched an 11-month low after weaker-than-expected U.S. economic growth cut prospects for higher interest rates, adding to the appeal of non-yielding assets. Traders now see less than a 50 percent chance that the Federal Reserve will raise borrowing costs by November, according to Fed fund futures data tracked by Bloomberg.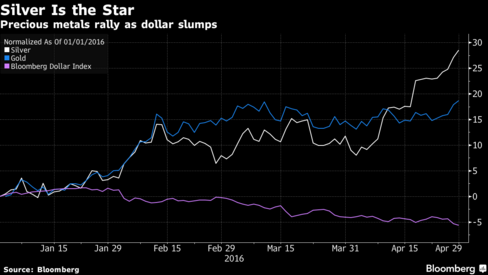 Silver's 15 percent surge this month has bettered gold's advance amid optimism that industrial usage will increase as China's economy shows signs of stabilizing. About half of the metal's demand comes from products ranging from electronics to solar panels. The country's silver imports climbed 39 percent in March from a month earlier, rebounding from the lowest since 2014, customs data show.
"Everybody loves a winner," said Tai Wong, the director of commodity products trading at BMO Capital Markets in New York. "There haven't been many great trades recently. The weak GDP yesterday, weak dollar overnight helped propel what was already a very bullish silver and gold market."
Prices Gain
Silver futures for July delivery gained for a fifth day, rising 1.3 percent to settle at $17.819 an ounce at 1:49 p.m. on the Comex in New York. Earlier the price reached $18.02, the highest for a most-active contract since January 2015. Gold futures for June delivery advanced as much as 2.6 percent to $1,299, the highest for a most-active contract since January last year. The price is up 4.4 percent this month.
"Silver is rocketing" and has also benefited from improving Chinese demand, Dmitry Kolomystyn, the chief commodities strategist at Sberbank CIB, said by telephone from Moscow.
In the spot market, an ounce of gold bought 72.608 ounces of silver, near the least since October. The ratio has dropped from as high as 83.8 in February, as silver overtook gold as this year's best-performing metal. Friday's level is still above the average of about 60 over the past decade.
There are signs some investors may be taking profits. Holdings in silver-backed exchange-traded products are down 163 metric tons this week through Thursday, the most since 2014, data compiled by Bloomberg show. Assets reached a 16-month high last week and are still up 1.1 percent in April to 19,826.2 tons.
This article was produced by
http://www.bloomberg.com/news/articles/2016-04-29/gold-heads-for-biggest-weekly-gain-since-february-on-dollar-drop
By  Yuliya Fedorinova, Luzi-Ann Javier
April 29, 2016 — 11:39 AM AESTUpdated on April 30, 2016 — 4:47 AM AEST