Is the gold:silver ratio running out of steam?
Posted on 16 Dec, 2016 in
Merry Christmas and a Happy New Year
to all our valued clients
Thank you for your support over the past year – we really appreciate it.
As usual, Gold Bullion Australia will close its Public Trading Office over the Christmas and New Year period
Our last trading day will be Wednesday the 23rd of December and we will resume over the counter trade at 9.00am on Monday the 18th of January 2016
During this time there will be limited over the counter service available. Registered clients may purchase online as usual, although the despatch or collection of purchases will only resume once the store has reopened. Deliveries will resume on the 19th of January 2016.
If you are not registered or online trade – please take a moment to do so. It is quick and easy and offers 24/7 access to purchase gold and silver bullion.
Deliveries
Final dates for despatch of purchases will be:
Under 5kg parcels   Monday 21st of December 2015
Over 5kg parcels     Thursday17th of December 2015
Buy Backs
Storage clients may sell their bullion back to us. If you wish to sell stored bullion, please email us at quote@goldbullionaustralia.com.au and we will respond at the earliest opportunity.
Is the Gold:Silver ratio running out of steam?
As many of you are aware, the gold:silver ratio which represents the amount of silver required to purchase an equivalent amount of gold has always been considered a key metric in determining relative value in the two commodities. This ratio has been increasing steadily over the last few years to the point where it is now approaching historically high levels. As can be seen in the graph below, approaching these ratio levels in recent years has indicated potential opportunities for solid gains from purchasing silver.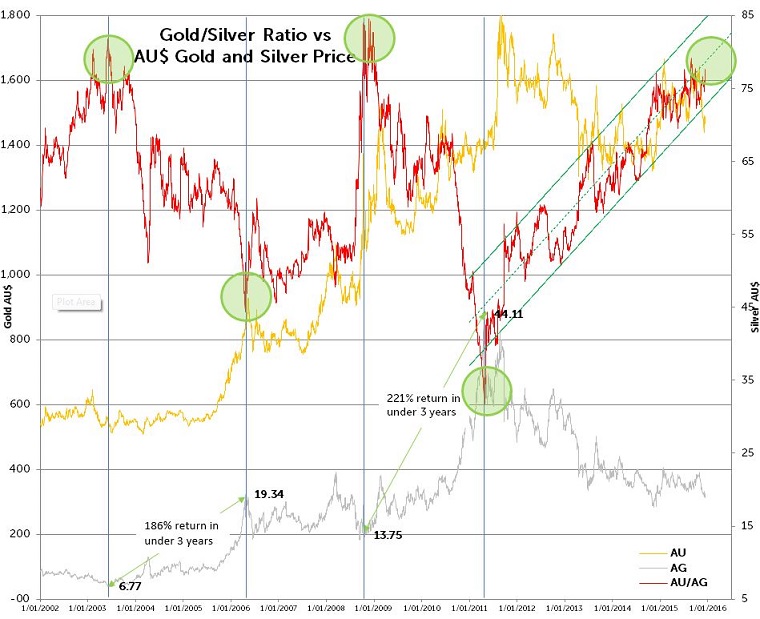 When it was at these levels in 2003, the silver price appreciated from AU$6.77 to AU$19.34 in under 3 years. When it was at these levels in 2008, the silver price appreciated from AU$13.75 to AU$44.11 in just over 2 and a half years. Both periods represented very profitable buying opportunities for silver.
Like all trading, it's extremely difficult to pick the peaks and the troughs and there is always the possibility for continued downside in the silver price. Over the longer term however, if you are looking to invest in the bullion market, recent history certainly suggests that now is possibly a good time to take a closer look at starting or increasing your silver investment.
If you have any queries at all, please telephone us on 1300 754 602 or email us at quote@goldbullionaustralia.com.au
Thank you