All eyes were on the Reserve Bank of Australia this week when the Board decided to slash the cash rate to the new historical low of 1.75%.  The announcement – which came just hours before the Government unveiled its 2016 Federal Budget has had a significant negative impact on the AUD.
Last week the US Fed decision had a far lesser impact on the Gold Price (and Silver price) in Australia than the ABS announcement that CPI is at a 1 in seven year low of -0.2%.  While the Fed announcement caused a ripple, the release from ABS saw the AUD$ drop more than a cent in less than a minute.
So what should we – as precious metals investors – be keeping an eye on for the weeks to come?
Investors are flocking to the precious metal because of a much weaker US dollar and the poor performance of stock markets. Gold is priced in US dollars, so a weak dollar makes it a more attractive investment to non-US buyers. It is also seen as a 'safe haven' investment when stock markets are volatile.
So to focus on the Aussie gold and silver prices (and considering we are buying and selling locally then that is exactly what we should be looking at rather than the US$ prices), there are a few roads that seem to lead to gold and silver:
1.    Drop in AUD$ following RBA announcing the interest rate drop
2.    Cash and term deposits no longer a viable investment option at new historical low of 1.75%.
3.    Equity markets still volatile
4.    Australian property market is inflated
5.    US Federal Reserve raising interest rates – While they decided to hold last week due to mixed data, there is a chance they will increase interest rates in the near future. This will likely result in the gold prices increasing as investors move out of equities and back into the safety house of cash and gold whilst also putting negative pressure on the AUD.
Regardless of in which currency you are investing, the above reasons are leading to gold and silver.
But for Aussie investors, what is more interesting is the difference between the US$ Gold price and the AUD$ Gold price.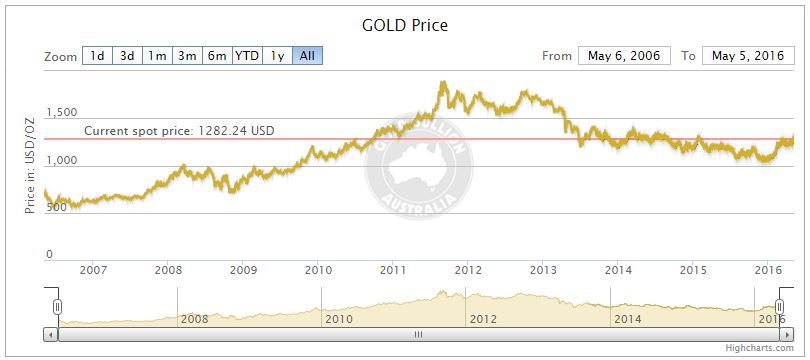 While Gold price in the US has been in decline over the last 5 years, the Aussie gold price has maintained its value and still seems to have significant room to move to the upside if US prices continue their recent recovery.
ARE YOU ALREADY AN INVESTOR IN PRECIOUS METALS?
Most Australians are comfortable with property, cash (or Term Deposits) and the stock markets as investment classes.  However, while gold and silver have been a popular and tangible investment class in many countries for hundreds of years it is still a new "Dinner party conversation" to many Aussie Investors.
WHY PRECIOUS METALS?
Gold and silver is often cited as a good investment option to help balance out an investment portfolio as they offer a lower-risk asset which is tangible and liquid.  In fact holding gold bullion will improve the performance and risk profile of your portfolio, it protect your fund from the risks of holding currency, which of course loses value over time, due to inflation and acts as a hedge against potential falls in other asset markets, such as stocks, bonds and property.
Investors in precious metals particularly love the liquid aspect of their assets, they know that if they quickly need access to funds they can sell today for close to spot price.
HOW DO I START INVESTING IN PRECIOUS METALS?
You can simply register with Gold Bullion Australia and purchase online immediately, it is easy and very quick.  To register an account now and start investing CLICK HERE
If you already have registered with Gold Bullion Australia and want to buy now CLICK HERE.