Auctus Metals Breaks +54% Annual Net Returns For Year 2019
Posted on 14 Jan, 2020 in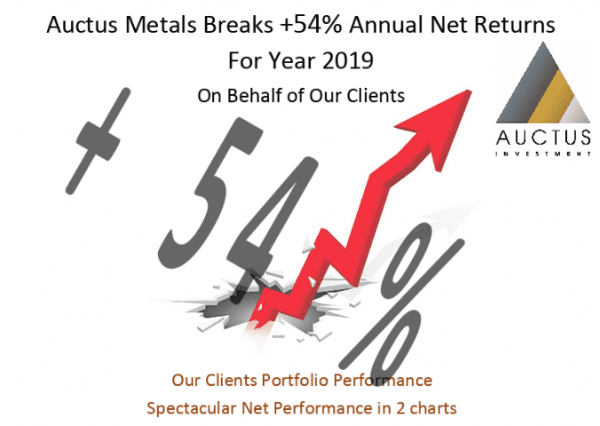 Our managed precious metal portfolios (using our company trademarked algorithmic systems managing the physical weightings of the portfolios of our clients who have utilised our service) have yet again confirmed our portfolio models outperform the market.
Our algorithm driven physical precious metals strategy is designed to generate an effective yield out of what is typically a non-yielding investment.
Utilising gold as the base unit rather than fiat currency, our algorithm generates yields on the original gold holding by identifying risk assessed opportunities within the other precious metals based on a broad range of market indicators incorporating the platinum group precious metals.
With gold typically generating similar long-term returns to equities and real estate (approximately 7% – 10% per annum), achieving a yield on the initial gold investment allows us to significantly enhance these returns (circa + 20% Compound Annual Growth Rate and above (CAGR)
The re-balancing of existing gold investors portfolios (trading margins) has not hurt them in spreads, its actually enhanced their long term returns. Looking historically at the performance of our models we have discovered that our algorithms have sold metals near 60% to 70% of their final run highs (selling on the way up) identifying other metals to re-weight into near their historical lows.
Auctus models have had a remarkable run at recognising the right levels of undervaluation and capturing 2/3rd's of the upside, this is all that's required to capture the below portfolio performances.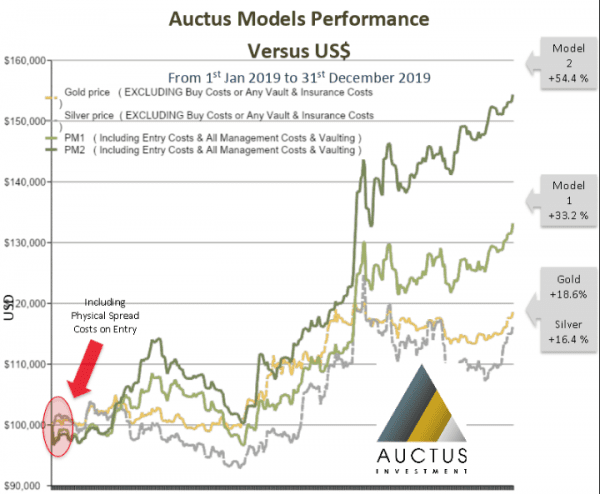 Our models are designed to give a very healthy positive (+Alpha) return over a 3 to 4 year period 'over and above gold's performance. Although saying that we have walked into the perfect storm (which we have written about) and we do expect returns on our models to stay elevated over the next few years.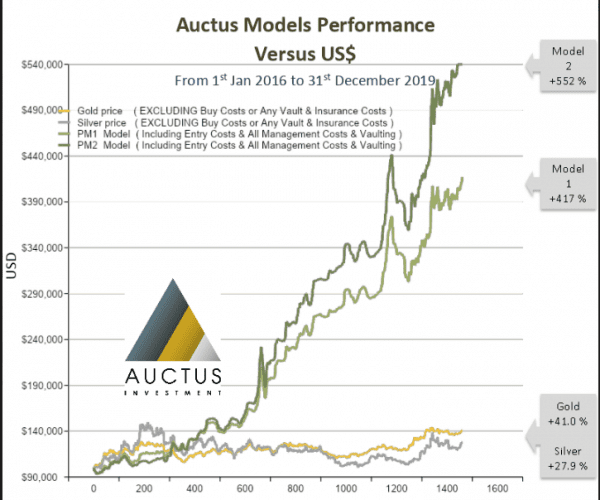 No performance is guaranteed of course and pullbacks have to be anticipated, which is part and parcel of global markets price action, however a diversified well managed portfolio that is constantly being monitored on a daily basis is considered imperative for our clients portfolio performance.
Auctus longstanding proven out-performance seems a logical way of approaching your hard precious metals diversification requirements.
– Always full physical metal investment allocation
– Zero paper trading or collateralisation.
– Held fully in the client's sole named vaulted account and held with third party vaulting within free-trade zones security premises.
Contact us : Auctus Metal Portfolios
Email       admin@auctusmetals.com
Website   http://www.auctusmetals.com
Contact Us :  Gold Bullion Australia
Australian Telephone  1300 754 602
    Email     Sarah@goldbullionaustralia.com.au
Website     www.goldbullionaustralia.com.au