Valcambi Suisse 50 x 1g CombiBar Minted Gold Bar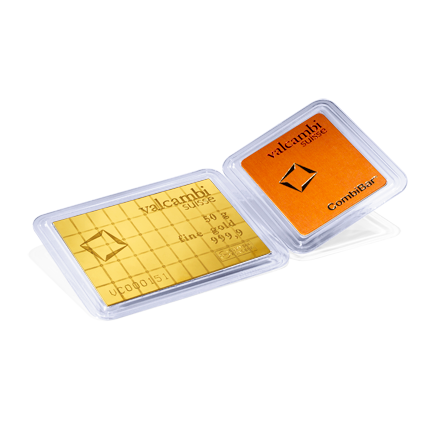 $3,664.23 /unit
Weight:

50g
Dimension:

Length: 15mm
Width: 9mm
Thickness: 1mm
Purity:

99.99%
Valcambi Suisse 50 x 1g CombiBar Minted Gold Bar
Valcambi Suisse has introduced divisible minted gold and silver bars.
This item consists of a 50 gram minted gold bar, that is divisible into 1g pieces with the snap of a finger.
50 grams 99.99% pure gold
50 divisible 1g bars
74.00 x 52.00 x 0.80 mm
Why this type of Gold Bullion and Coins?
Buy gold coins online through Australia's leading gold bullion dealers since 1980. It is simple and safe. Sign up for an account online and get started!