Perth Mint 1oz Silver Rectangular Dragon coin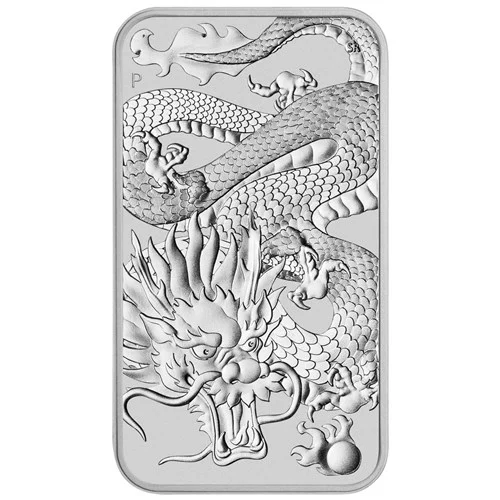 $41.09 /unit
Weight:

31.10350g
Dimension:

Length: 40mm
Width: 40mm
Thickness: 4mm
Purity:

99.9%
SILVER DRAGON WITH HIGHLY SIGNIFICANT MINTAGE FIGURE
In Chinese culture, the dragon is revered as a divine mythical creature, a symbol of power, strength, wealth and good fortune.
In 2022, The Perth Mint's popular series of rectangle-shaped Dragon coins for investors portrays an exquisitely detailed representation of a Chinese dragon. Its scaly serpentine body has a magnificent head featuring sinuous horns and tendril-like whiskers. An awe-inspiring beast, the Chinese dragon is actually considered to be benevolent and wise.
Struck from 1oz of 99.99% pure silver, this superb release is struck in outstanding bullion quality with shiny design motifs on a delicately frosted table. The coin's reverse also includes The Perth Mint's 'P' mintmark, our traditional symbol of elite minting skills since 1899.
The Jody Clark effigy of Her Majesty Queen Elizabeth II is depicted on the rectangular coin's obverse, which also features its weight, fineness, monetary denomination and 2022 year-date.
Why this type of Silver Bullion and Coins?
Why this brand?
We offer large range of Perth Mint silver including bars and coins. Buying silver through Gold Bullion Australia is simple and safe. Sign up for an account online!