Baird & Co 500g Gold Cast Bar
$36,953.99 /unit
Weight:

500g
Purity:

99.99%
Baird & Co of London 500g Gold Cast Bar 99.99%
This PAMP Cast bar is provided with a certificate and.
Produced in London by LBMA accredited refineryBaird & Co brand and is recognised world wide.
Baird & Co brand and is recognised world wide.
The process of casting means that these bars each have a unique, hand-made, unpolished finish at lowest production cost
Gold 99.99%
Weight 500 g
Thickness 8 mm
Why this type of Baird & Co?
Gold bullion cast bars are traditionally the most popular form of precious metal purchases made by investors. The production costs are lower than for minted bars and coins, plus you can stack your cast bars as you buy more.
This solid 1kg cast bar is branded GBA and is a beautiful, robust investment that can be stacked and stored.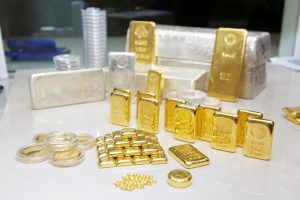 Why this brand?
Baird & Co was established in 1967 dealing in numismatic coins and has been a major player in the International markets for gold bullion and coins since.
The minting division produce a range of high quality products for private investors, trade buyers and retailers. In 2000 Baird & Co was accepted as a member of the London Bullion Market Association (LBMA).