Baird & Co 100oz Cast Silver Bars are an excellent investment
Posted on 23 Sep, 2017 in
With an outstanding pedigree stretching back 50 years, Baird & Co is family owned and proudly independent.
A member of the London Bullion Market Association, an official partner of The Royal Mint; Baird & Co is acknowledged as the leading supplier of investment quality precious metals in the UK.
Gold Bullion Australia is proud to be an accredited distributor of Baird & Co products in Australia; we have a wide range of cast and minted gold, silver and platinum bars and ingots always in stock and at excellent prices.
All Baird & Co products are meticulously created, with many silver sizes individually serialised.  Cast bars are considered the best type of product for investing, the production costs are lower than that of coins or minted bars, however, these cast bars are arguably the most beautifully presented in the precious metals market.
The Baird & Co Cast Silver bars are an excellent example – we have them stocked in abundance for you to purchase immediately. They are very well priced, particularly the Silver 1 kg and 100oz Cast Silver bars.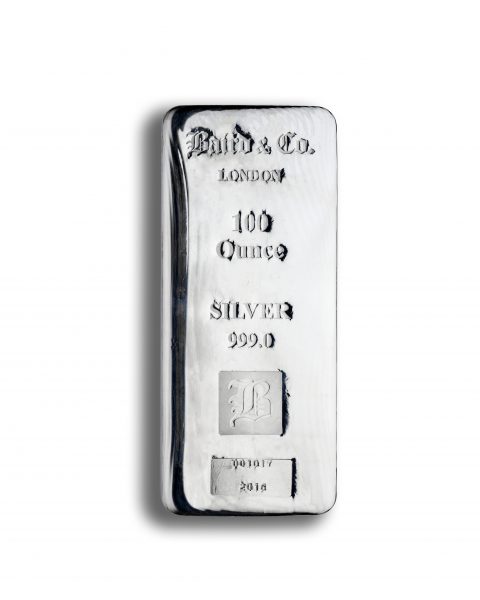 The Baird & Co Silver Cast Bar – 100oz is an excellent weight for investment
At 3.1kg this bar is a great size for investment, keeping under the $5,000 level (based on current spot price).  The 100oz is beautiful, solid and can be easily stacked or quickly sold.
GBA has plenty of these in stock and we are able to offer them at a very competitive price.
With silver prices as they are now, and commentary indicating they are set to explode (refer to the report by David Mitchell), it's time to consider these investment grade bars today.