Gold and Silver Price Sept 8th
Gold and Silver Price Market update Sept 8th
Gold and silver prices have rebounded by the end of the week from heavy selling in the previous session, as US employment reports showed lower than expected figures and the European Central Bank's surprise decision to cut interest rates to a record-low 0.05%[1], and supported by concern over geopolitical tensions between Russia and Ukraine.
Gold and Silver Prices Snapshot (Sept 1-5th):
| | | | | | |
| --- | --- | --- | --- | --- | --- |
| Commodity | Units | Price | | Change | % |
| COMEX Gold (Dec 14 delivery) | USD/t oz. | US$1,267.30 | (AU$1351.37) | +0.80 | +0.06% |
| Gold Spot | USD/t oz. | 1,268.81 | (AU$1352.98) | +7.14 | +0.57% |
| | | | | | |
| --- | --- | --- | --- | --- | --- |
| COMEX Silver (Dec 14 delivery) | USD/t oz. | $US19.16 | (AU$20.43) | +0.02 | +0.09% |
| US Dollar Spot | USD/t oz. | $US19.20 | (AU$20.47) | +0.15 | +0.77% |
Gold and Silver Charts:
Source: NASDAQ
Gold gained as much as 5.4% this year on demand for assets amid escalating conflicts in the Middle East and Ukraine. However, reports on Wednesday that a 'permanent ceasefire' was declared in East Ukraine triggered sell-offs to an 11-week low, but these were later floored by a delayed comment from the Kremlin, claiming Russia was not party to the conflict[2]. At the end of the week, gold futures and spot gold rose again after the awaited US jobs report data added the fewest jobs this year, a stark contrast to confident predictions of a strengthening US economy just days before[3].
In Australian commodities news, CommSec senior analyst Craig James predicts futures markets to open lower next week due to falls in commodity prices. Metals exploration spending was also reported to be at its lowest level in trend terms since the March quarter of 2007, according to a report by the Australian Bureau of Statistics. The Australian considered the European Central Bank's easing policy a mixed blessing; it can bolster gold's appeal as a hedge to a sliding euro but that could strengthen the US dollar, making gold more expensive for non-US buyers such as Australians[4]. Forbes also noted that the ECB decision could mean a weaker euro and believe the US Federal Reserve is likely to end its quantitative easing program soon, which will strengthen the US dollar. In Australian business news, Gold and copper miner Oz Minerals has appointed Former Rio Tinto executive Andrew Cole to replace CEO Terry Burgess. Cole has 22 years of experience under Rio Tinto[5] and is expected to assume the role on December 3.
According to Forbes, a seven week downtrend is in place on the daily bar chart for gold and silver. The gold resistance is first set at US$1,275.00 (US$1,359.58) and then at US$1,280.00 (AUD$1,364.91), and the first support limit is based on Wednesday's low of US$1,261.90 (AUD$1,345.61) and then at US$1,250.00 (AUD$1,332.92). For silver, the first resistance line is at US$19.355 ($AUD20.64) and then at the week's high of US$19.565 (AUD$20.86). Support is at the week's low of US$19.11 (AUD$20.38) and then US$19.00 (AUD$20.26)[6].
Greg Harmon of Dragonfly Capital provides some technical analysis looking at gold trends in a 10-year time frame: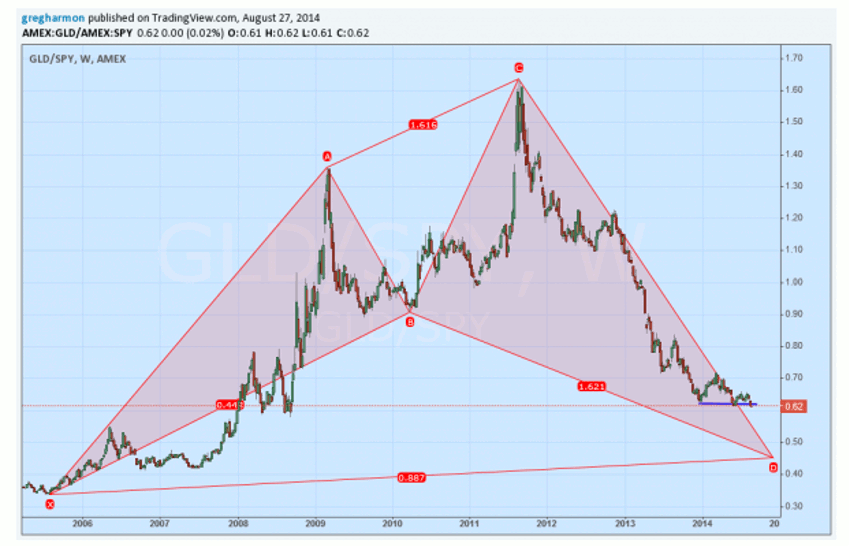 Source: Moneyshow.com
He predicted that while it might look like a good time for a reversal, its "not time for the fat lady to sing yet" and the overall bullish pattern might need to see falls by 25% first[7].